Product Video:
Christmas Light Strand Flashing Necklace<font color="#00FF00">SALE!</font>
Code: 11059
---
---
Volume Price Table
Quantity
Price
1-11
$2.99
12-23
$2.49
24-71
$2.19
72-143
$2.14
144-287
$2.09
288+
$1.99
---
Product Description
•••••
Christmas Light Strand Flashing LED Light Up Necklace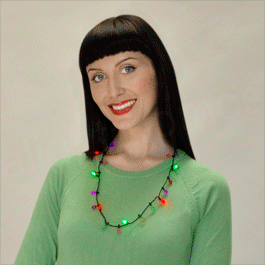 Spice up the Holidays with Christmas Light Strand Necklaces! These festive necklaces are a great stocking stuffer or secret Santa gift. To activate simply press the black button on the battery pack.
The Christmas Light Strand Necklaces do not have an opening clasp. Lift over your head to put on or remove. There are two light functions. Press the button once for still light, press twice for blinking lights and press once more to turn off.
NOTE: Not all of the Christmas bulbs light up, after 2 non lit bulbs there will be a lit bulb.
Total 6 leds light up on these Christmas Light Strand Necklaces
Dimensions:
Length: 28.50 in. , 72.39 cm.
LED Colors: 3 Jade, 3 Red

Batteries: Includes (3) AG10 Batteries. Batteries for this item are replaceable.